Ponderosa Lodge History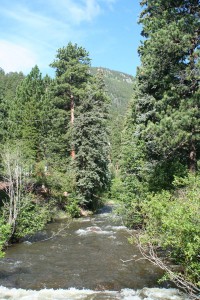 The original Ponderosa Lodge was built in the mid 1950's.  The two lodge buildings hugged Fall River and were separated by a large common patio.  Guests could follow the catwalk down to the river's bank.  The iconic crisscross motif decorated the back deck and the front of the buildings.
Agnes Lucas was the proprietor for the decade of the 60's into the 70's.  The lodge was enjoyed by guests with a longing for the mountains and a love of the quiet, the fresh mountain air, and therushing water of the river nearby.  At the time, there were only a handful of lodging establishments on Fall River Rd.
In the early 80's Chris and Toby Farrel became the owners.  In 1982, the Ponderosa Lodge a 30 year old mainstay, was destroyed by the Lawn Lake flood that devastated the entire area, including downtown Estes Park.   After the devastating flood, The Ponderosa Lodge was reconstructed to the look it has to this day.  The Farrel family was dedicated to maintain the beauty and allure that the lodge had offered guests for the previous 3 decades, a bit further up the bank however.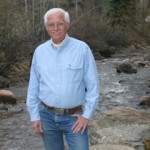 In 1991 James Tawney purchased the lodge.  In '93 & '94 both buildings were updated.  With an influx of lodges sprouting up and a push to stay competitive, The Riverside Cabin was built on the north end of the property in '95.  In 2006 the main lodge was again refurbished with the addition of kitchenettes, new tile and carpets, the addition of updated interior décor throughout and gas fireplaces for the Murphy bed wing.  With a drive to build the business the ranch style cabin just up from The Riverside Cabin was remodeled and reinvented with the transformation to The Homestead Cabin. In the fall of 2013 another flood devastated much of Colorado with Estes Park being at the headwaters of the devastation.  The Ponderosa Lodge was fortunate to escape relatively unscathed.  James passed away shortly after the flood and his daughter Mia has assumed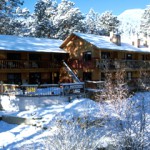 ownership with the passion and dedication her father had.
Mia has been instrumental in updates that you can see around you.  The siding on the lodge has been updated in addition to extensive grounds maintenance and updated décor in each of the rooms.  New beds were installed in 2016, decking updates, a new laundry room and additional parking are among the improvements made while keeping a passion for the natural beauty and allure that visitors have visited the lodge to enjoy since the 50's. Nestled in the forest at the end of the dirt drive some elements of the Ponderosa Lodge will remain timeless.